Student ID
National benefits for students with Tuudo
Tuudo's student ID entitles you to subsidised meals and student prices at VR and Matkahuolto, among other things.
Check if you are entitled to a student ID and take advantage of your benefits.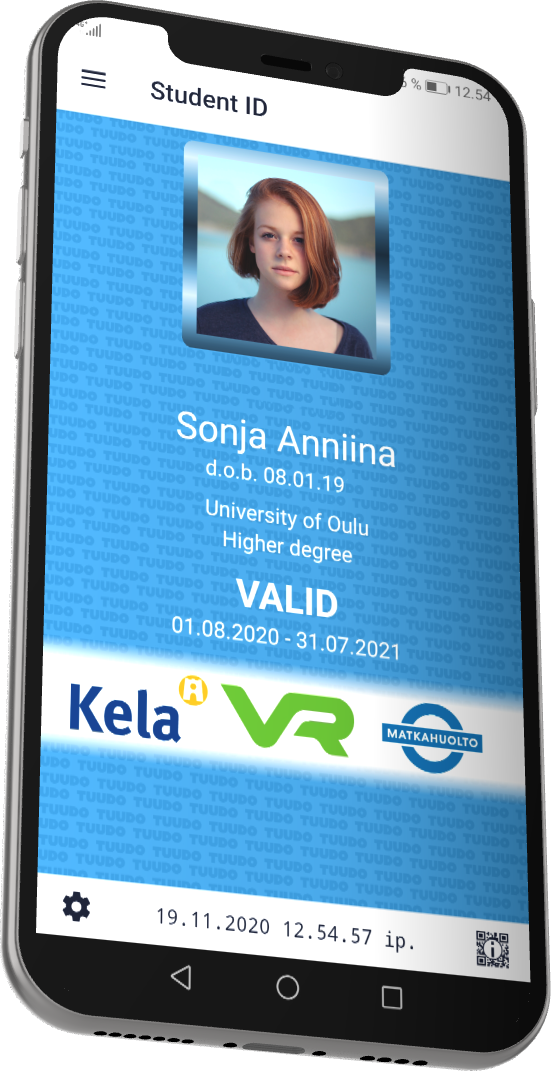 What institutes use Tuudo's student ID?
At the moment, Tuudo's student ID is used by the following educational institutions: University of Oulu, Oamk, University of Lapland, University of Tampere, TAMK, Metropolia, University of Eastern Finland, Kamk, Åbo Akademi, Turku UAS, Diak, HUMAK, Novia and Salpaus.
Why is Tuudo's student ID not used by all institutes?
If Tuudo's student ID is not used by your institute, you may have another student card or ID. Your institute and/or your student association will give you more information.
Who can use the student ID?
You are entitled to have a student ID if you are studying at a secondary-level educational institute or for a bachelor's or a master's degree. You must enrol for the term during which you use the student ID. Those studying at open universities or for a doctoral degree are not entitled to a student ID.
I study at an open university. Is there a special ID for me?
Those studying at open universities are not entitled to Tuudo's student ID. Metropolia University of Applied Sciences and Turku University of Applied Sciences do, however, offer a separate Tuudo ID for those studying at open university.
Why can't I see the ID even though I should?
There may be temporary interruptions in the availability of the student ID if the connection between Tuudo and the information system of the institute is disconnected. These problems are usually resolved quickly.
Can I still use the student ID after graduation?
No. According to the criteria set by Kela, VR and Matkahuolto, the student ID becomes invalid as soon as your right to study ends, which is your date of graduation. The same rules also apply to the traditional plastic student card.